Wachter Warriors Help Feeding America with Virtual Step Challenge
Giving back to our communities is a core value at Wachter and the mission of the Wachter Warriors committee.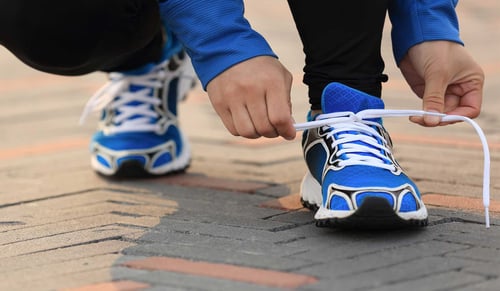 Because of the COVID-19 pandemic, the Wachter Warriors committee couldn't facilitate many of its traditional in-person philanthropic events. However, the committee still wanted to give back to those most in need and do so in a fun and competitive way.
That's when Lauren Finnegan, HR generalist, and Megan Lloyd, onboarding and recruitment manager, teamed up to create the first-ever virtual step challenge. Finnegan has participated in previous step challenges and thought this would be a great opportunity for Wachter employees to help raise money for a good cause.
"I thought it would be good for Wachter employees to start 2021 off by getting outside and getting some steps in," Finnegan said. "The Wachter Warriors committee chose to help out Feeding America because of how it was directly affected by the COVID-19 pandemic. Due to the effects of the pandemic, more than 42 million people have experienced food insecurity — including 13 million children."
Feeding America is the nation's largest domestic hunger-relief organization with a network of 200 food banks across the U.S. With one in nine people struggling with hunger and food shortages in America, the Wachter Warriors decided that Feeding America should benefit from this virtual step challenge.
"We thought about what all COVID-19 has affected and we thought that raising money for Feeding America was a cause that affects everyone," Lloyd said.
Wachter employees joined the step challenge in February with a minimum $5 entry fee. The employees who finished the challenge in the top three received prizes.
Click here to make a donation or volunteer with Feeding America Today!
HOW & WHY WACHTER WARRIORS TOOK THEIR STEPS
For first place finalist Michael Pate, Dallas LBU manager, motivation for helping stemmed from the fun competitive nature that so many at Wachter share.
"I usually focus on getting 10,000 steps per day, but I knew I had to do better than that to beat the fierce competition. All I had to do was imagine Anthony Tipton winning and that was enough motivation to push me to the limit," Pate said with a fun competitor's spirit.
Pate has been a regular participant in Wachter Warriors philanthropic events.
"I've seen all the great things the Wachter Warriors have done to help others in need and I wanted to jump in on the opportunity to pitch in and help with this cause," Pate said. "Even though we are in a pandemic, I'm glad that Wachter still finds opportunities like this to recruit participants in a safe manner to continue to help our communities."
Anthony Tipton, San Jose LBU manager, was already focusing on his well-being before the virtual step challenge began and said the step challenge came at the right time to fit into his existing routine.
"Last Father's Day my wife got me a Garmin fitness tracker watch and it's one of the best gifts I ever received because it probably added several years to my life," Tipton said.
Having experienced hunger in his life, Tipton knew this challenge would help so many during the COVID-19 pandemic.
"It's important that as a company we continue staying agile and successful to keep people employed, fed, and in their homes because it has an impact on communities we all live in across the country," Tipton said.
Julie Lachner, business analyst I, also saw this virtual step challenge as a win-win for herself and the communities benefitting from Feeding America.
"I sit at a desk for work so I try spending the other hours moving with lots of long walks with my dog. It's good for her and it's had a positive effect on my mental health as well," Lachner said. "Food banks and soup kitchens help save lives, and it's a cause that I want to support. I knew hungry kids in my previous job, so I'm glad to contribute in this way."
Finnegan also participated in Wachter's virtual step challenge and felt motivated by coworkers and Feeding America to compete.
"It was crazy and encouraging to see how many people take way over 10,000 steps per day. Those people definitely motivated me to try and walk more," Finnegan said. "I think to those of us who were fortunate enough to keep our jobs during the pandemic it is our responsibility to help those who are in need."
No matter the individual reason for participating in the virtual step challenge, all of the Wachter Warriors put their best foot forward to helping those facing hunger in America.
Top 10 Virtual Step Challenge Finalists
Michael Pate,

Dallas LBU manager

— 447,720 steps
Dave Smith, Lowell warehouse helper — 437,000 steps
Anthony Tipton,

San Jose LBU manager

— 421,872 steps
JB Dowden, project manager II — 308,795 steps
Travis Tipton, project manager — 262,809 steps
Julie Lachner, business analyst I — 261,819 steps
Bruce Do, senior project manager — 251,258 steps
Megan Lloyd, onboarding and recruitment manager — 225,515 steps
Jim Giefer, St. Joseph local business account manager — 204,659 steps
Todd Merrill, strategic account manager — 195,013 steps
VIRTUAL STEP CHALLENGE STATISTICS:
The Wachter Warriors committee raised $1,840 for Feeding America through the virtual step challenge.
The average donation was $25, with an overwhelming majority donating more than the $5 entry fee.
Feeding America provides more than 4.3 billion meals annually through its nationwide network and

98% of all donations to Feeding America

go directly into programs serving people in need.
Wachter employees finished the virtual step challenge with a total of 4,062,078 steps, which equals roughly 1,810.11 miles traveled. That distance is equivalent to someone leaving the

Lowell, AR LBU

and walking all the way to the

San Jose, CA LBU

!
Congratulations and thank you to every Wachter employee who participated in this virtual step challenge!