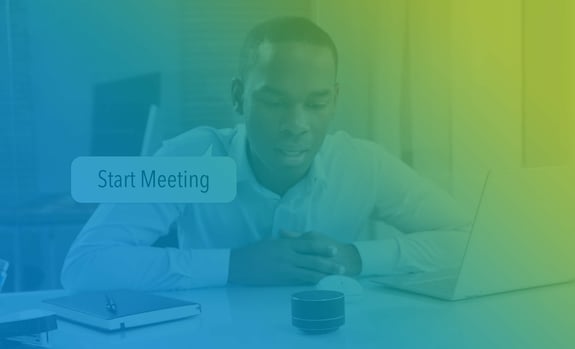 Touchless Meetings Connect Employees Safely
How Employees Keep Connected & Productive with Touchless Meetings
Wachter's Touchless Meetings solution gets business back on track and keeps employees healthy. With touchless meetings, in-office employees can connect to remote workers and customers.
Touchless meetings are easy to integrate and have four capabilities: join via proximity, connect to and control meetings by voice, scan a QR code, and digital signage reminders for meetings.
Join via proximity allows for employees to connect to a touchless meeting in three easy steps:
Walk into the meeting room
Opening their mobile device
Start or join the meeting
Employees can start and join meetings just by using their voice. In voice-controlled meeting rooms, employees can say various prompts, such as: "start the meeting," "join the meeting," or "remind me when another meeting starts in 5 minutes."
Another easy way for employees to join meetings is by simply scanning a QR code with their smartphone. Then a webpage will appear on the smartphone with the same controls as displayed on the meeting room's touch screen or remote control device.
Digital signage displays remind coworkers when a touchless meeting is occurring, but can also remind in-office employees of public health information, company news, weather, and more content.
How can Touchless Meetings work for your business?
Schedule a 15-minute call to learn more »
Additional Touchless Meetings Benefits
HD digital signage displays
Integration with AI-powered personal assistants like Amazon Alexa and Google Assistant
Bluetooth compatibilities
Join meetings impromptu or "on-the-go"
Reserve meetings in all conference rooms and meeting spaces
Touchless meetings have excellent capabilities that help employees connect to customers and coworkers both during and after the COVID-19 pandemic. Get in touch with us today for this innovative, configurable, and safe solution.