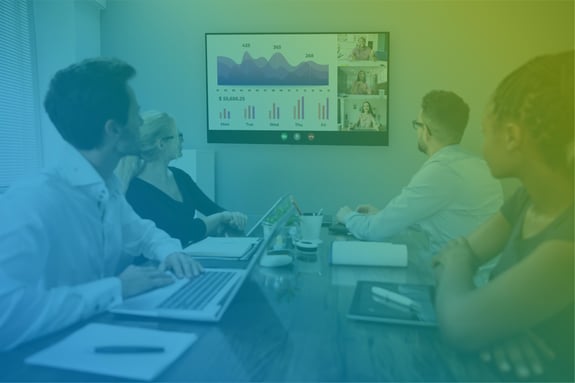 Nationwide Audiovisual Solutions Provider
Audiovisual technologies drive business success. Wachter provides audio and video technology that informs coworkers, delights customers, and entertains guests. Learn more about our flexible, affordable, collaborative audio and video solutions.
WACHTER PROVIDES CUTTING-EDGE A/V INTEGRATIONS
Digital disruption is forcing companies to adapt and transform, and yesterday's A/V solutions won't meet today's business collaboration needs.
And the audio and video solutions of the future no longer belong to a single department within the enterprise.
Wachter works with all the stakeholders in your organization to develop functional, flexible workspaces that allow your teams to collaborate in real-time.
Wachter's A/V engineers and nationwide workforce provide industry-leading audio video collaboration solutions, including:
Digital Signage Displays & Video Walls
Digital signage displays and video walls are becoming an increasingly popular fixture of offices, entertainment venues, retailers, and businesses nationwide. Digital signage displays and video walls can provide for an immersive or interactive experience for guests.
Inform employees, guests, or customers of company news, promotions, or content. Dazzle clients with engaging presentations using a video wall.
No matter the size, space, or locations, the Wachter Audiovisual Engineering (WAVE) team can procure, install, and maintain digital signage displays and video walls for your business.
Download Digital Signage Case Study
High-Tech Meeting Rooms
Wachter delivers modern conference room technologies that provide instant connectivity, crystal-clear video conferencing and web meetings, audible audio communications, simple meeting room booking, and more.
AV for Training Spaces
From classroom technology to corporate learning labs, Wachter equips collaborative education spaces with modern, interactive, scalable A/V solutions.
AV Managed Services
Audiovisual solutions have amazing capabilities to drive growth for businesses. However, managing many audio and video devices can be cumbersome, especially for smaller organizations.
Wachter's Audiovisual Engineering team can manage your audio and video technologies for you! The team can consult your business on which technologies can achieve your goals, procure the technology, and then deploy the AV solutions needed.
Wachter's Network Operations Center (NOC) is standing by 24/7 to help troubleshoot problems and provide expert solutions.
Learn more about Wachter's managed services.
Flexible Work Environment
How and where people work is changing.
In the workplace of the future, both productivity and employee satisfaction may depend upon flexible workspaces that allow for unique, adaptable, wireless-anywhere options for collaboration.
Collaboration Spaces
From huddle rooms to shared collaboration labs, Wachter designs ad-hoc meeting spaces and provides creative solutions that encourage impromptu collaboration and support BYOD technologies.
Wachter helps you create the workplace of the future.
Wachter's Additional Audiovisual Solutions
Conference Room Technology
Audio Conferencing
Video Conferencing
Touchless Meetings
System Design and Configuration
System Staging and Testing
Sound Masking
Unified Collaboration
Automatic Hand Sanitizer Dispenser with Digital Signage
Design Bid
AV Design-Build
How to Find the Right Audiovisual Solutions
Audiovisual technologies can drive business success in many ways.
With audio and video technologies, customers can be informed, delighted, and entertained at your business.
This guide will help your business find the right audiovisual solutions.
Download the Ultimate Audiovisual Solutions Guide today!