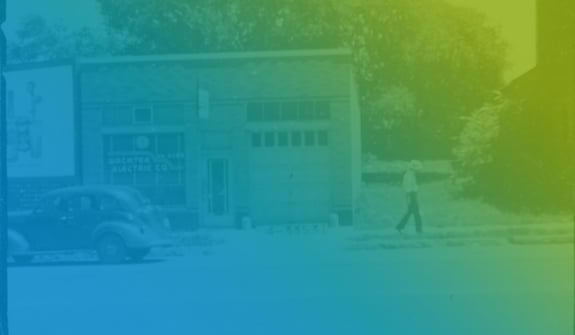 History
Wachter History
A legacy of building lasting relationships
In 1930, William Wachter founded our company with a simple vision — build lasting customer relationships by providing quality electrical services at a competitive price.
Guided by that vision, Wachter has grown into a nationwide leader in business transformation and technology deployment for the Fortune 500 and local businesses alike.
Four Generations, Family-Owned
William Wachter was born in Zurich, Switzerland in 1898. He completed 12 years of formal schooling before learning the electrical trade by apprenticing with a local electrician.
In 1921, William completed his apprenticeship and sailed to America to begin a remarkable life journey.
With $150 in savings and the skills of a tradesman, William arrived on Ellis Island. Speaking no English, he wore a sign around his neck declaring his destination, Kansas City, where he joined two uncles and a sister.
Humble Beginnings, A $500 Investment
William worked first for the Kansas City Streetcar Company, and later, La Pierre Electric, where he worked on the Walnut Towers that still stand above the Plaza area today.
When La Pierre went bankrupt, William cashed in a $500 life insurance policy and founded Wachter Electric.
Fittingly, one of the company's first projects was to complete the Walnut Towers that William began at La Pierre.
The Botteron Connection
Jack Botteron, high school sweetheart of William's daughter Marjorie, joined Wachter as an electrical apprentice in 1948.
The couple married two years later, and together William, Jack, and Marjorie ran a successful electrical contracting company with a reputation for quality craftsmanship and excellent customer service.
Jack and Marjorie's son, Brad Botteron, joined Wachter in 1980, the same year William Wachter retired, and the company celebrated 50 years in business.
Charting a New Path
As the electrical construction industry grew more competitive and commoditized, Brad saw the need to differentiate Wachter from its competitors.
Energy conservation was big in the 80s, and Wachter developed its first nationwide business installing energy-efficient lighting and temperature controls — work that continues to this day with the next generation of energy-saving products.
But it was an RFP in 1988 from the University of Missouri Kansas City for a then-new technology called fiber optics that truly transformed Wachter's business and set a course away from the traditional construction markets to the more specialized field of Information Technology.
While Wachter didn't win the UMKC project, it resulted in critical new relationships with IT integrators, which eventually led to direct end-user clients that drive hundreds of millions in revenue today.
This work was so successful it created a new rallying cry: Provide single-source nationwide technology infrastructure services.
Business Transformation
After decades of growing its technology integration business, opening offices nationwide, and developing client relationships with many of the Fortune 500, today Wachter is poised as a leading solutions integrator that enables digital transformation.
By investing in the right people, developing reliable processes, and integrating business technologies in affordable and innovative ways, we have the proven ability to deliver on our promise of complete customer satisfaction regardless of technology, geography or schedule.
We're driven to earn our customers' trust by exceeding their expectations and continuing to expand our services. Earning trust by keeping our promises is how we build relationships, and we've been doing it every day since 1930.