Sound Masking Technology That Keeps Distractions Down, Productivity Up
Sound masking is the newest technology aimed at limiting distracting background noises to improve the productivity of employees.
Sound Masking Technology Limits Noises & Amplifies Productivity
Offices that switch to trendy open floor layouts risk increasing auditory distractions and reducing employee productivity.
Sound masking technology is the answer.
Sound masking technology dampens distracting noises around coworkers focused on their task at hand, and allows for continued collaboration and productivity.
Sound Masking Technology Limits Noises & Amplifies Productivity
Benefits of Sound Masking Technology
Who Benefits from Sound Masking Technology?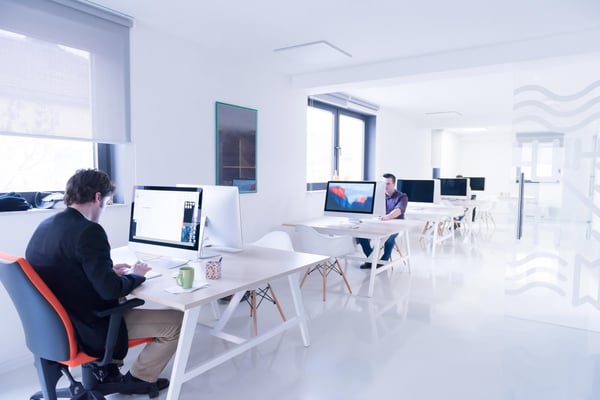 One of the greatest benefits of sound masking technology is that it can be installed in virtually any indoor space, retailer, or working environment.
Coworkers can continue private conversations without distracting nearby coworkers hard at work. Customers can shop in peace without distractions around the store. Teams can continue collaborating in meeting rooms without bothering coworkers at nearby desks.
Businesses in virtually all markets can benefit from sound masking technology.
No Need to Remodel or Renovate Space for Sound Masking Technology
Businesses wanting sound masking technology do not have to remodel or completely renovate their existing space in order to benefit from sound masking technology. Wachter's Audiovisual Engineering team (WAVE) will meet with you to understand your challenges, pinpoint areas of auditory distractions in your location(s), and install the necessary sound masking devices.
One example of easy to install sound masking technology is through the use of emitters. Small, barely visible emitters (speakers) are connected by cables to a control module that can be housed in an equipment room within the business.
This allows for private conversations to continue without distracting coworkers focused on current tasks. Wachter can configure and install an array of sound masking technology that fits your needs.
Additional Audiovisual Services:
Call Quality Analytics
Security System Integration

New Construction & Remodels
Improve the collaboration and productivity of your employees by installing Sound Masking technology!
Sound Masking Enhances Call Quality for Fortune 500 Insurance Company Call Center
Call center representatives of a Fortune 500 insurance company have one job — make hundreds of inbound calls to customers daily.
To make room for more call center representatives, the auto, home, and life insurance company converted a large vehicle bay into a regional inbound call center.
But maintaining excellent call quality with customers can be tricky when these call center representatives work in a space with poor acoustics.
To meet their needs of improving call quality while limiting background noises, Wachter installed sound masking technology.
Download the case study to learn how we installed Sound Masking technology in one week for this client.
SPEAK WITH A SOUND MASKING TECHNOLOGY EXPERT