Wachter Donation Helps Provide Internet Access to Low-Income Individuals and Nonprofits
Wachter's recent donation to PCs for People aims to tackle two challenges.
Not every household in America has access to a computer or reliable internet access — particularly in rural communities and low-income households. Yet estimates show that between 300 million to 400 million electronic items are thrown away annually.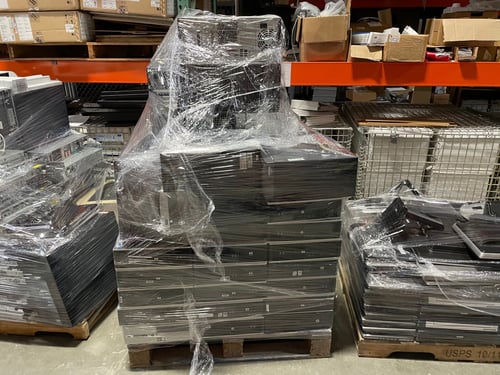 And improper disposal may put future generations at risk. Though electronics represent only 2-3% of America's solid waste, they make up as much as 70% of the hazardous materials in landfills, with decomposing materials such as lead, chromium, and cadmium.
PCs for People combats these problems.
Founded in 1998, PCs for People works to deliver low-cost computers and provide affordable broadband internet for low-income households. So far 155,000 people now have a computer and 165,000 people have affordable broadband internet thanks to their efforts.
PCs for People is certified for data destruction and e-waste (R2) recycling and provides services to more than 1,800 companies nationwide.
John Sharer, national account executive at PCs for People, specializes in Information Technology Asset Disposition (ITAD) services for secure disposal of electronic equipment. Sharer connected with Wachter through Mark Hufford, director of IT.
"We have humble beginnings, but have sprouted into a national leader for digital equity," Sharer said.
Wachter's IT team is lending a hand to PCs for People's mission through a recent donation of laptops, workstations, printers, and servers. Hufford said his team donated 83 laptops, 59 workstations, 18 servers, and 10 printers to PCs for People. He says that Wachter is piloting this e-waste recycling program at the Lenexa, Kansas office and expanding the program to the Lowell, Arkansas office in late 2021.
"When Chariman Brad Botteron challenged Wachter employees to find ways to give back to their local communities, the IT department knew one area where we could make an impact," Hufford said. "It's great that we can recycle our e-waste; it's even better that it's being repurposed to serve those in need."
The donation from Wachter helps at a time when technology is needed most. According to Sharer, 1 in 5 students reported not having consistent access to a computer or the internet to do their homework before the pandemic. PCs for People bridges that education gap.
"Fifty-eight of our clients are unemployed, and 62% of clients have never owned a computer," Sharer said. "Our surveys have shown that there's a 15% increase in annual family income in the first year of utilizing our services."
WHAT IS DIGITAL EQUITY?
According to the National Digital Inclusion Alliance, digital equity is when "all individuals and communities have the information technology capacity needed for full participation in our society, democracy, and economy."
Wachter's donation helps improve digital equity for those in need.
PCs for People has a five-step model for digital equity: source, refurbish, distribute, support, and educate.
Source — Bring in equipment that can be refurbished for home use. PCs for People can refurbish equipment that is 7-9 years old.
Refurbish — PCs for People is a Microsoft Authorized Refurbisher (MAR). That means the organization can purchase and distribute licenses for all Microsoft products. Each refurbished computer receives a licensed copy of Windows 10, antivirus and anti-malware software, and everything else needed for a home computing system. There are only 20 MARs in the United States, and PCs for People is the only nonprofit.
Distribute — PCs for People provides computers ranging from free to $150 in each of its locations, in addition to nationwide distribution services via an online portal.
Support — All computers come with a warranty, meaning PCs for People will replace the laptop or computer for a similar machine.
Educate — Since many clients have never owned a computer, PCs for People offers a free digital learning center.
"Serving and helping others makes the world a better place and we're excited to be a small part of that," Hufford said.