Building and Deploying Transformative Technology
Navigating the uncertainties of digital transformation in retail can feel overwhelming, but overcoming these obstacles is possible. Customer expectations are at an all-time high, and current systems may not be sufficient - leaving executives wondering 'where we should begin'.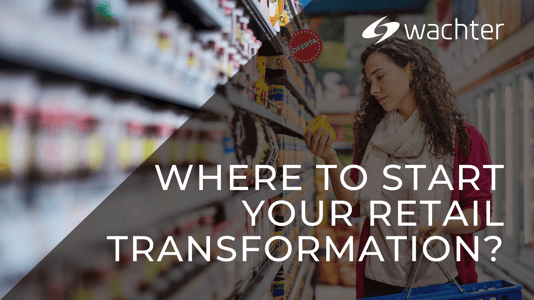 Taking a focused look into customers, operations, and legacy technologies to uncover improvement / modernization opportunities, you can create a plan that sets your business up for success in this ever-changing landscape. This blog post dives deeper into how risk assessment works alongside tailored strategies specifically designed to transform any retail organization; from Innosight's 2016 report findings - companies must act now if they want their organization to survive beyond 2026! Time is an ever-present adversary for businesses, and, despite their best efforts to stay ahead of the digital curve, many companies have fallen short. Over 90% of Fortune 500 firms from a few decades ago are no longer on the list due to going out of business or merging with other entities.
Mike Hurd - Director Of Technology Services at Wachter - commented that these companies failed to transform when online shopping and fulfillment fully matured and revolutionized online commerce. It serves as a stark warning: acknowledge change quickly or risk losing your competitive advantage!
Deploying Transformative Technology for Your Future
In today's retail landscape, harnessing the power of technology can be an invaluable asset. By updating internal systems and physical locations and utilizing digital marketplaces, retailers have a perfect recipe for success in connecting with customers and creating new selling opportunities. Consolidating data across various sources allows businesses to look ahead at potential outcomes resulting from their digital transformation journey - paving the way toward even greater efficiency! "Digital Transformation is reducing the engagement friction and creating connections for the customer," said Hurd.
Technology silos are the bane of a store's success, but Hurd reveals how cross-departmental coordination could be their saving grace. By compiling disparate data sources like security cameras and point-of-sale information into one place, stores can reap insights that optimize operations and create exciting opportunities to deter shrink and risk as well!
As technology continuously evolves, Hurd thinks the possibilities for digital transformation are enumerable. But he knows one thing for sure, "if you don't continue to evolve and choose to stay stagnant, the world will pass you by. Successful businesses cannot afford to be complacent as the history books are full of former successes."
Succeeding with Superior Solutions
For any digital transformation to be successful, business partners must ensure they can trust the reputation of their partner organization. Wachter focuses on a "white glove" approach that offers a complete end-to-end experience: from building relationships and completing discovery phases to management and enhancement post-project completion. With this line of support at every step in your journey, you'll have peace of mind knowing that success is within reach.
"Wachter's white glove doesn't stop at the end of the handshake when the paper is signed. We walk a customer through that entire digital transformation," said Hurd. He continued, "from building that relationship to the discovery phase, to transition to implementation, and then from implementation to management and enhancement. That full lifecycle exists, all under our Wachter family of services."
Hurd credits the uniqueness of services, alongside Wachter's proven track record, to the company's success. "Wachter has an admirable history of supporting the metamorphic processes of our biggest retail customers; partnering with Wachter provides a certain assurance. We understand what retailers go through and prioritize their staff to create ideal consumer shopping experiences. Our technologies are strategically planned and engineered to make those experiences truly unforgettable," said Hurd.
Managed Services: Allowing You to Focus on the Customer
The retail industry is under pressure as consumers' habits and expectations continue to change at a rapid pace. To stay ahead of the curve, retailers must begin deploying transformative technology such as AI-enabled technology, customer connections, digital signage, and frictionless service. Wachter can help you implement these technologies quickly and efficiently while also providing superior managed services and 24/7 support.
For more information or to speak with the Wachter team about your own digital transformation, please click here.