Business owners have been hit hard since the COVID-19 pandemic spread to the United States earlier this year. Now as businesses are ready to get back to work in this new normal, America is seeing a resurgence of the virus.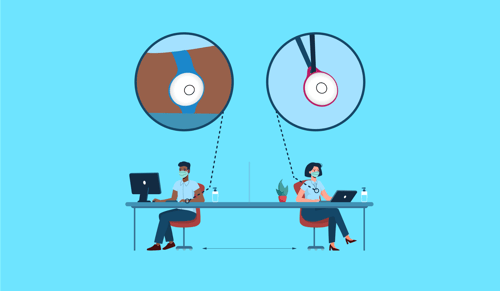 While several states have fully reopened or begun reopening, this resurgence is "coming back and biting us," says Dr. Marc Boom, CEO of the Houston Methodist hospital system. Boom's state, Texas, is one of four reversing its course when it comes to reopening their economies. Arizona, California, Florida, and Texas have each faced record increases in new positive COVID-19 cases. Each of the four states are now reimposing social distancing and public health restrictions for residents.
Among others, Kansas and Oregon have recently mandated that everyone must wear a face covering in indoor public spaces to help stop the spread of COVID-19. Kansas Governor Laura Kelly said "the evidence could not be clearer: wearing a mask is not only safe, but it is necessary to avoid another shutdown."
What is Contact Tracing?
Additional effective measures to slow the spread of COVID-19 include social distancing and contact tracing. We're already familiar with social distancing measures: staying at least 6 feet apart from others in public settings, staying home if you're sick, and wearing a face covering in public settings.
Contact tracing is another important step to stop the spread. According to the Centers for Disease Control & Prevention (CDC) contact tracing is "part of the process of supporting patients and warning contacts of exposure in order to stop chains of transmission."
As more states might consider reimposing social distancing and contact tracing guidelines to flatten the curve, technology can lend a helping hand.
Stopping COVID-19 Resurgence with Contact Tracing, Social Distancing Technologies
Both business owners and their employees want to return to work, but the COVID-19 pandemic poses a significant challenge to everyone's health. That's why Wachter has partnered with AiRISTA Flow to implement ContactWatch — a contact tracing and social distancing technology in workplaces across the country.
ContactWatch is an effective solution to a complex problem — providing both social distancing encouragement and contact tracing data. Employees wear a small sleek tag on a wrist strap, pendant, or key fob, which help you mitigate the spread of the Coronavirus within your facility.
ContactWatch for Social Distancing
The first goal of these WiFi- and Bluetooth-enabled devices is to have all employees stay at least 6 feet apart and to limit hotspot zones where COVID-19 or other infectious diseases could spread more easily.
As employees go about their duties, anytime they come within 6 feet of each other, the devices will make an audible notification and / or flash lights to alert both employees that they are too close in proximity. This event is then recorded within the reporting dashboard so that over time the business can learn which parts of their facility are "hotspots," where the most employee interaction could take place and where germs can be easily spread.
For businesses looking to reopen quickly and safely, ContactWatch is a great solution. These devices are configurable for distance and duration settings and can be deployed in your location within hours.
RETURN TO WORK SAFELY GUIDE

Wachter wants to help you return to work safely during and after the COVID-19 pandemic. Click the button below to read this guide for how you can get your employees back to work safely.
ContactWatch for Contact Tracing
The second benefit of ContactWatch comes from the data collected by these tags and reported through the cloud-based portal.
The robust reporting solution provides automated alerts for trend spotting, real-time alerting when groups form, and an interactive contact tracing dashboard. Drive further compliance through gamification — report on contact counts and trends by user, group, or department.
When an employee does test positive, utilize the historical data to determine who they've contacted within your facility over the past 14 days. Notify those contacts via automated emails or SMS messages and drive next steps, such as "Avoid further contact and call HR."
Monitor and mitigate any potential outbreaks by checking trends with at-risk employees and considering spikes at an individual level and via group or department.
ContactWatch for New Use Cases Post-COVID
Your ContactWatch investment doesn't stop when COVID-19 is no longer a threat. In addition to its social distancing and contact tracing elements, the components of ContactWatch can be applied in new ways post-COVID to maximize ROI.
Capabilities include real-time location, active RFID, passive RFID, context-based workflows, business process orchestration, and controlling devices such as cameras and doors.
Specific post-COVID use cases vary by industry. In healthcare, this system can be used to improve staff safety, patient flow, wander management, hand hygiene, temperature monitoring, and asset tracking and utilization.
In hospitality, ContactWatch can be used to improve housekeeper safety, monitor refrigeration, and drive both loss prevention and asset tracking.
And in industrial environments, ContactWatch can be repurposed post-COVID to provide outdoor locating, asset tracking and equipment utilization, wireless ID, worker safety, and regulatory compliance.
And these are just a few use cases for how to maximize your investment and turn ContactWatch into an ROI-driver even after COVID-19.
ContactWatch and You
Wachter's ContactWatch social distancing and contact tracing solution is great for a variety of businesses, workplaces, stores, restaurants, and more. Keeping your employees and your customers safe will keep your business safe.
Together we can eliminate the spread of COVID-19.
Learn how businesses can rebound with this innovative social distancing and contact tracing technology » wachter.com/contactwatch