How Hand Sanitizer Protects Employees, Customers From COVID-19
Getting back to work has never seemed like a more daunting task. The idea of getting back to work used to be reserved for those who were terminated from their employer, took an extended break from work, or for coming out of retirement.
Today, getting back to work has a new meaning. Getting back to work safely during a pandemic is on the minds of business owners from Main Street to Wall Street.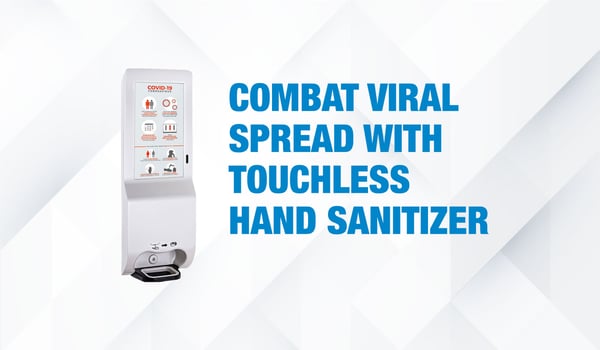 "How do I keep my employees and customers healthy?" is one of the many questions facing employers. Clean, sanitized hands are a large part of the answer to curbing the spread of the COVID-19 pandemic.
As you may have heard, the Center for Disease Control & Prevention (CDC) recommends using hand sanitizer when one cannot wash their hands with soap for at least 20 seconds. The CDC recommends people should use alcohol-based hand sanitizer both "before and after visiting a friend or loved one in a hospital or nursing home", if you are able to visit with them.
It is still recommended to wash hands thoroughly with soap and water, but when soap and water is not readily available, hand sanitizer will work as a substitute. It is important to note that hand sanitizer should contain at least 60 percent alcohol to be most effective.
Businesses that are able to open at or closer to capacity can protect their customers and employees with automatic hand sanitizing dispensers.
Automatic Hand Sanitizer Dispensers Help Curb the spread of COVID-19 Virus
Automatic hand sanitizing dispensers are an important asset in combating the spread of COVID-19. These dispensers show your customers that you care about their health and the health of your staff.
Touchless hand sanitizer dispensers work great for a variety of locations, including:
Hospitals and medical offices

Restaurants, grocery stores, retailers, and malls

Education campuses

Office environments

Manufacturing, industrial, logistics, and distribution facilities

Gyms and health centers

Hospitality venues such as hotels and resorts

Government buildings
RETURN TO WORK SAFELY GUIDE

Wachter wants to help you return to work safely during and after the COVID-19 pandemic. Click the button below to read this guide for how you can get your employees back to work safely.
Automatic hand sanitizer dispensers work perfectly for a variety of businesses
Restaurants:
When customers enter, wait to be seated, and leave your restaurant, they can sanitize their hands to limit the spread of illnesses like COVID-19.
Retail:
After customers purchase your products, they can use the hand sanitizing solution from the dispenser and feel safer when returning home.
Education:
With schools and higher education campuses reopening, touch-free hand sanitizer dispensers can keep hands sanitized going to and from classes.
Office and Government Buildings:
An automatic hand sanitizer dispenser gives your employees and customers peace of mind. Hand sanitizer dispensers fight germs to keep your customers and your employees safe.
One particular dispenser, NoviTizer, protects patrons and informs them of your business.
Why NoviTizer is the Perfect Touch-Free Hand Sanitizer Dispenser
NoviTizer is unlike any other automatic hand sanitizer dispenser.
Simply place this touch-free hand sanitizer dispenser on a stand or mounted to a wall, fill dispenser with FDA-approved hand sanitizing solution, then display the content you'd like to promote on the digital signage display.
Yes, it has a digital signage display.
A digital signage display is included with the dispenser unit, allowing business owners to display current promotions, new products and courses, local and CDC public health guidelines, and many more content opportunities.
This cloud-based software sends a variety of email alerts to business owners, like when hand sanitizing solution needs to be refilled.
NoviTizer is the perfect touch-free hand sanitizer dispenser because it engages with, informs, and keeps your business healthy.
Protect your business from the COVID-19 pandemic with NoviTizer.