Universities have endured rapid technological changes. The COVID-19 pandemic immediately challenged the education sector with rapid adoption and the need to provide students with various learning vehicles to excel outside the traditional classroom. A bridge between remote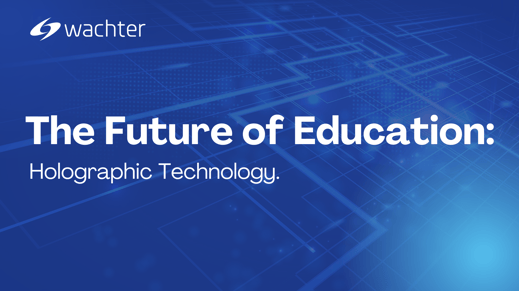 learning and virtual conferencing was at the forefront of those successes and lessons
learned. Post-Covid, students and professors have adapted and are eager for more technology and human connections.
Interestingly, that has not stopped the need to explore the digital possibilities for keeping professors and students connected. Holographic technology is an exciting offering for administrations, professors, and students. Technology advancements are at the forefront and changing the way students want to interact. Imagine 3-D holographic technology impacting everything from interactive campus ambassadors who can answer questions in real-time or "beaming in" live professors for in-class sessions, but from a different location. We can examine various scenarios for plausibility, this is a glimpse into the near future and the conduit that powers it.
Way-Finding

of the Future
Holographic technology can provide a friendly face that instantly gives a panicked first-year student the direct route, ensuring they're not late for their first day of classes. Or it can function as an interactive map, helping Parents Weekend go off without a hitch. Regardless of the need, strategically placed on campuses, holographic technology provides friendly interaction and positive student engagement.
Beaming In for Professor Meet-Ups or Live Performances
No longer are in-person lectures a single-sourced monologue. Students and educators are thriving in the teleconference age. They persevered through the communication boundaries of the pandemic, changing how and where students attended classes. In many cases hosting lecturers remotely provided a safe and convenient opportunity to increase student engagement through teleconference technology.
So what's next for the communication exchange featuring today's technological advancements alongside renewed demands of educators? With holographic technology the future is a clear, transformative, and immersive experience that will shape the student-professor relationship.
Imagine studying the human body through a 3D, life-like, 4K display without the risk of contracting an illness or going back in time and conversing with a historical figure. All of this is possible.
Bringing in Live entertainment can become expensive for colleges and universities. What if they had the opportunity to bring high-caliber talent to their students at a fraction of the cost? Through these live immersive holographic connections, the student experience would double. If it is about the price, here is the best part: holographic solutions provide institutions the ability to sign on for more entertainment and create a superior student experience by exponentially providing more period.
Through Holographic Installations, Campuses will Thrive
Transforming institutions through state-of-the-art technologies like holograms should not be left to an inexperienced team of professionals. Regardless of the state of your campus' IT infrastructure, Wachter will partner with you to survey and recommend what upgrades are necessary for a smooth implementation. Wachter leads the way in campus technology innovation defining the right technology solutions to meet your specific technological needs.
Read more » The New Frontier in AV Technology: Holograms