AV technology is evolving, and customer expectations are high. In a crowded marketplace, standing out is difficult, making digital transformation even more necessary. New frontiers are necessary, as pushing AV experiences to the limit will set your business apart.
Emerging Trends in AV
Successful AV companies understand the importance of creating unique and powerful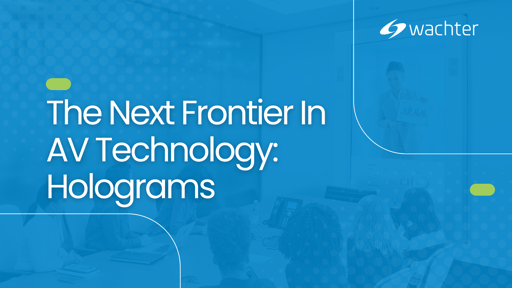 connections between their brand and customers. Touchless Environments, Smart Buildings, Hybrid World models, and Virtual and Augmented Reality are becoming necessary facets of the AV experience.
To really wow your customers and transform your AV experience, it is paramount to partner with trusted experts who can help you design, deploy, and maintain your goals by supporting today's challenges with scalable solutions for tomorrow.
Experience The Human Connection
Customers and audiences can see full-size displays of speakers, celebrities, artists, musicians, and doctors via live-stream or recorded content. Speakers can be anywhere and everywhere. The way people want to experience modern concerts are evolving, venues are tasked with investing in the total experience and because of that the technology demand and ability to connect with attendees is even more crucial. Art can be displayed at niche galleries and massive museums. Athletes can do fan meet and greets at the closest and furthest fan zone. The possibilities with this new frontier are endless, allowing you to build one-of-a-kind connections with your customers.
It may feel like something out of a Star Wars movie, but holograms can deliver new, interactive ways to create connections with customers, providing dynamic digital displays and transforming the way customers virtually interact with your business.
Ensure that your business puts its best foot forward with dynamic, realistic, human connections.
Bandwidth Got You Down?
Wachter can also help mitigate the challenges of the modern AV space. Manage sound quality with sound masking and conference room technology suites. Audit your network to prevent bandwidth issues and infrastructure problems. Secure what matters most with dynamic audiovisual security, all with a 24/7 nationwide support force.
Let's Connect
Let's connect today to learn how we can provide the best AV experiences together.