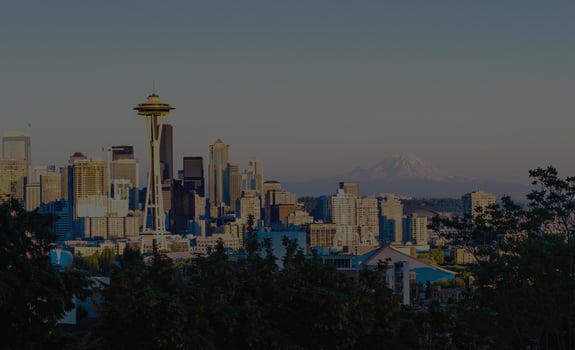 Your one-stop shop for all of your IT and network infrastructure upgrades
We provide superior IT service integrations for local and regional businesses in the Seattle area. From installation to device management to warranty service, we integrate data, security, and A/V solutions.
SEATTLE LBU
Email: Cory Walsh
Phone: 479-879-4894
Keeping Your Business Connected
Wachter's Seattle Local Business Unit (LBU) keeps your business connected by serving as one of the region's leading structured cabling installation and IT networking companies.
Our team works to take the pain out of digital disruption, and poises your company for strategic growth through digital initiatives.
Physical Security Solutions
Wachter's team of engineers, project managers, and technicians install physical security for businesses in Seattle. We partner with leading physical security innovators and use these technologies to protect your business.
Are you looking for a Modern Security system solution for your small business?
Installing video surveillance systems in Seattle is one of our many specialties.
Engaging Audiovisual Solutions
Audiovisual installation enhances employee and customer experiences. Wachter is the go-to audiovisual systems installer and integrator in Seattle.
We pride ourselves on creating lasting partnerships with A/V companies to provide innovative audiovisual devices.
Our team works to design the right audio and visual layout that engages with customers, informs employees, and drives the messaging that's most important to your business.
These A/V solutions are perfect for restaurants, retailers, grocery stores, offices, and many more businesses in Seattle.
Wachter's Audiovisual Solutions
IT Networking Solutions
Business today is conducted via reliable connections to the internet. Keeping your business running digitally is one of our many fields of expertise.
Wachter can design, install, and maintain wireless IT networks that keep your employees and customers connected.
Some of the IT services we provide in the Seattle area include structured cabling installation, data center management, outdoor fiber optic cable installation, IP phone systems, and more.
Wachter's IT Networking Capabilities
Sound Masking Systems
Office spaces can be hectic and noisy at inconvenient times. With a sound masking system, employees are able to have conversations without bothering coworkers.
These innovative solutions improve the acoustics of the office and drown out loud noises that normally everyone in proximity can hear clearly.
A sound masking solution can improve employee productivity and satisfaction.
Contact us for a sound masking solution in Seattle today.
Design Services
Wachter's office in Seattle works to set your business up for success. To start, we'll consult with you on how to solve your most complex challenges.
From there, Wachter's team will design a solution and coordinate technologies for installation or integration.
Contact Wachter Seattle today for technology design and engineering solutions.
Wachter's Additional Services in Seattle:
Wireless Installation
Outside Plant (OSP) Fiber and Copper Installation
Systems Engineering
Project Planning and Management
Installation
Service and Maintenance
Site Assessment
Quality Audits
Stage & Configuration Center