Lenexa, Kansas – Leading technology integrator Wachter, Inc. continues its long-standing relationship with Cisco by renewing Cisco® Gold Certification.
To maintain Gold Certification, Wachter proved it can integrate sophisticated, value-added Cisco solutions through their in-depth sales capabilities, technology skills, and service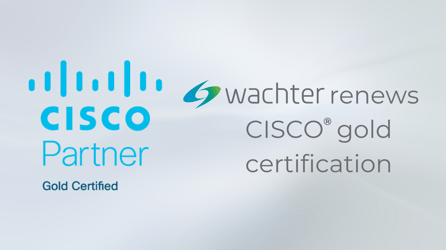 offerings.
"Wachter continues to provide cutting-edge Cisco solutions as a Cisco Gold Integrator," said Russell Cook, Systems Engineer Director at Wachter. "We're excited to continue this great partnership."
The Cisco Resale Channel Program provides a framework for partners to build the sales, technical and Cisco Lifecycle Services skills required to deliver Cisco solutions to customers. Through the program's specializations and certifications, Cisco recognizes a partner's expertise in deploying solutions based on Cisco advanced technologies and services. Using a third-party audit process, the program validates a partner's technology skills, business practices, customer satisfaction, pre-sales and post-sales support capabilities, and other critical factors that customers consider when choosing a trusted partner.
Said Cook, "Wachter drives business growth by integrating the latest and most unique Cisco solutions."
As a renewed Cisco Gold Certified Partner, Wachter has continued to meet the requirements of the Cisco Partner Program by achieving Cisco advanced specializations in unified communications, routing and switching, security, and wireless LAN. Wachter has also seamlessly integrated Cisco Lifecycle Services into its offerings and maintains high levels of customer satisfaction.
Wachter is proud to have renewed its Cisco Gold Certification.
About Wachter
Wachter, Inc. is a leading nationwide solutions integrator with over 90 years of technology innovation expertise. Wachter combines innovative technologies and leading-edge integrations with traditional systems and decades of expertise to create solutions that meet clients' business needs today and grow with them into the future.
With a nationwide workforce of W2 employees, Wachter provides most any business technology or service, for any vertical market, anywhere in the U.S. — whether at one location or thousands.