New showroom will feature sustainable, secure technology solutions
MOUNT LAUREL, NJ, May 4, 2023 -- Wachter, Inc., a nationwide technology solutions innovator, announced today the opening of its new Customer Experience Center (CEC), a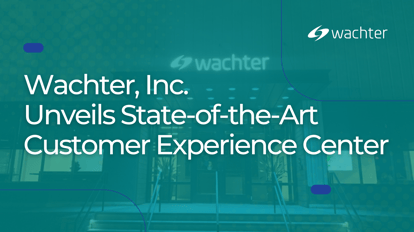 one-of-a-kind showroom designed to showcase the company's transformative technology portfolio. The CEC offers an immersive, interactive environment that empowers businesses to explore and test-drive state-of-the-art, sustainable, and secure technology integrations that are tailored to drive business growth and unlock potential.
"In today's dynamic business landscape, the need for solutions that not only address immediate challenges but also adapt to future demands is essential," said Matt Tyler, VP of Strategic Innovation of Wachter, Inc. "Our new Customer Experience Center embodies Wachter's commitment to delivering smart design and scalable strategies. We invite businesses to step into a world of tangible innovation where they can experience groundbreaking technologies and uncover the true meaning of partnership with Wachter."
The CEC is built around a sense of wonder and exploration, bridging the gap between warehouse, office building, and technology solutions showroom. From jaw-dropping, industry-defining advancements to everyday productivity boosters, businesses can expect to find an extensive range of scalable offerings that sharpen the cutting edge.
"Seeing is believing," said Tyler. "The Wachter CEC offers an unmatched opportunity for businesses to get hands-on experience with the latest advancements in technology. This level of accessibility is a game-changer and exemplifies Wachter's dedication to empowering their customers."
Visitors to the CEC will have the unique opportunity to:
Explore diverse technology ecosystems that seamlessly integrate secure, sustainable, and intelligent solutions

Engage with interactive demonstrations showcasing how Wachter's solutions can revolutionize their industry and give them a competitive edge

Collaborate with Wachter experts to develop customized technology roadmaps, ensuring continued success and growth
To experience the Wonder of Wachter, request a personalized tour of the Wachter Customer Experience Center.