How do you create a sense of WONDER around a warehouse? An office building? A technology solutions company showroom?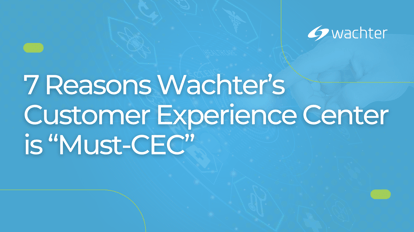 It's not about the space.
It's about ideas.
After all, some of the best technology is invisible! That's what's great about our smart technology solutions and building automation systems displayed throughout our CEC. Your business offices and warehouse will reach the next level! It's something you have to see in person to believe it.
The seemingly impossible becomes possible at Wachter's Customer Experience Center, and our cutting-edge, smart technology integrations are designed to inspire the possibilities.
What You'll Find in Our New Customer Experience Center
In our customer experience center, you'll find technologies that will blow your mind and take your company to the next level. You'll find everything from next-level physical security solutions, to enterprise IOT solutions, and much more! We pride ourselves in this technology we were able to create that will bring streamlined solutions to your business. It's something you must see for yourself.
Reasons Why You Should Visit Our CEC
Here are seven reasons you need to visit and experience the Wonder of Wachter for yourself:
7. The secret is in the walls. Technology is all around you, without ugly wires and clunky speakers. Expertly installed and seamlessly integrated, eliminating disruption and confusion to maximize productivity.
6. Sound Masking. Did you ever HEAR of it? Slick, stylish, and designed to help you focus in any environment. Imagine not having to listen to the conversation over by the water cooler.
5. Reimagine Lighting! Power Over Ethernet lighting is the sustainable illuminating pathway of the future. Regular office lighting doesn't have to leave you exhausted, distracted, and fighting a headache. Today's advancements can even lighten the mood, not just your space. At Wachter, we're making "skylights" an every-floor solution.
4. Cyber hardening strategy done right. The most secure WiFi you'll find. Controlled. Safe. Customized to your space and happening over light.
3. Immersive Experiences with interactive 3-D holograms. Check out live communication and Access and direct connection through visually-stunning technology.
2. Track inventory effortlessly through a fully automated customer experience. Transforming how you do business to maximize efficiency. Leaner and greener!
1. Fun! Visit a technology solution wonderland featuring cutting-edge ideas to give you a competitive advantage and take your business to the next level.
Experience exciting technology transformations that will elevate your business in our incredible new Customer Experience Center and explore all that awaits you.
Join us on May 4, when we open our doors to move your business forward. If you can't make it on May 4, click the button below to book a tour of our CEC and experience the wonder of these technologies for yourself. Gain a competitive edge, and explore the latest sustainable, secure technology solutions!