It's evident that the world has flipped upside down due to the Coronavirus pandemic.
Businesses are closed, employees commute from bedroom to living room, and essential workers heroically continue to work in these unusual times.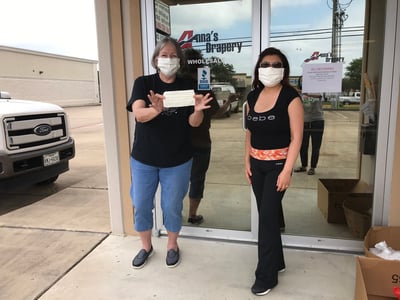 But despite these trying times, hope shines through. One Houston business, Anna's Drapery, is repurposing their materials into medical-grade face masks — and lending a helping hand to Wachter's own essential workers.
"We have been donating masks to hospitals, police departments, sheriff's departments, nursing homes, and more places," owner Anna Tran said. "We know that 300 to 400 masks a day is not enough but that is all we can do now. We have a limited budget to buy fabric."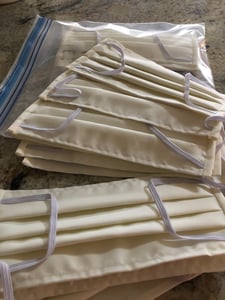 Tran got her start as a seamstress and designer for a small work room in Houston and then started her business in November of 1989. But she says it's because America has given so much to her over the years that she's determined to give back.
"I came to the United States in 1975 right after the fall of South Vietnam. We (most of the Vietnamese community here) think we owe America and Americans a lot when the government brought us to the United States," Tran said. "Americans have helped us a lot since the first day we arrived in the U.S. to now. It is time for us to repay America while the nation needs us."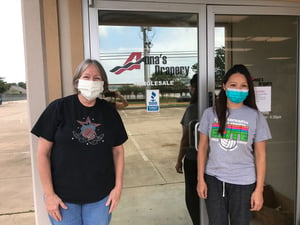 These volunteers picked up supplies from Tran at her business and then made the masks at home. Once the masks were completed, they returned to drop them off at Anna's Drapery and pick up another load of materials.
Deborah Pike, mother of Project Manager Jeremy Koole, moved into a new home in Cypress, Texas in early March, and reached out to Tran for new draperies. Anna's Draperies completed the project, but much like the rest of the world, Houston changed dramatically overnight.
Texas Governor Greg Abbott issued a disaster proclamation ordering Texans to stay at home unless performing or obtaining essential services. Pike called Tran and asked if she had thought about making masks for the community. Tran said that she had enlisted help from her friends, some workers, and even some nuns from a local church to make these masks.
"They had started to make them for all the hospitals in Houston," Pike said. "Word got around and Anna's team had started making masks for the police department. Anna told me she was seeing on the news each day that more nurses, doctors, and policemen were being diagnosed with COVID-19 and it just worried her."
The beauty of these masks is that they are washable and reusable. Tran recommends users hand wash the masks and hang them to dry or put them into the dryer on low heat. Then place a facial tissue like Kleenex between the mask and face, and change the tissue out a few times a day. This will allow workers to continue using the mask effectively every day.
After learning about Tran's selfless work, Pike called her son, whose essential field crews follow Centers for Disease Control and Prevention (CDC), state, and federal guidelines regarding COVID-19. Pike told Tran about her son and his many coworkers in Arkansas and across the country needing masks.
"My son has these men who are working and need masks that they can wear every day, wash, and reuse," Pike said. "Anna's masks are made out of a drapery liner and are considered medical grade."
When Pike arrived at Anna's Drapery, the team of volunteers had sewn together 100 masks for Jeremy and his coworkers.
"Ms. Anna wouldn't take a dime for anything she's sending us," Koole said. "She told me she was a refugee in this country in 1975 and the United States has always been so good to her and her family. She says this is her way of paying America back for helping her."
Both Koole and Pike offered to not only repay her for already putting together these masks, but also to give her money for more materials. Still, Tran rejected their offer for money.
Instead she's asking for "a little love" on her Facebook page.
"They are all grateful to the United States," Pike said. "Anna cries when she says 'please let me do this for free. Let me do this for your son, let me do this for his company, let me do this for free.' She is forever grateful to be here."
Koole received a shipment of masks on April 15. "The fit is absolutely perfect," he said. "They are very thick and well made with the pleats. I'm blown away. She even sews something in the nose part that bends to form fit over the ridge of your nose."
Pike said that Tran is "a blessing. She's absolutely saving people's lives and I've told her that."
Life during the COVID-19 pandemic is tough for everyone, and Anna's Drapery is no exception. Tran said they had to close their workroom on March 21, putting her paid staff out of work.
"It's scary," Tran said. "I hope we will get help from the government soon. If not, we may not be able to reopen and sustain the business for the first couple of months before the economy is back to normal."
While the world has completely changed, it's people like Anna Tran who provide a ray of hope. Wachter greatly thanks Anna Tran, Suong Nguyen, and their entire team of volunteers who are protecting the health and safety of our essential workers each day.