Keeping Remote Workers Connected with Touchless Meetings
Because of the SARS-CoV-2 virus that causes COVID-19, many businesses nationwide had to temporarily close or have employees work from home to reduce spread of the virus.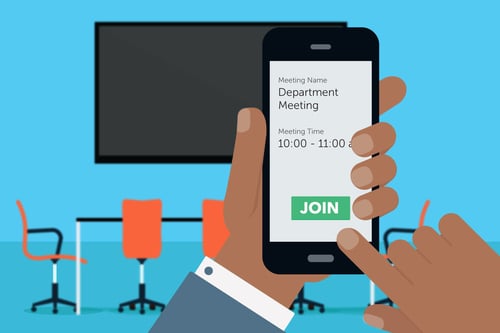 Now as businesses return to work in corporate offices, meetings with coworkers look much different. New touchless meeting solutions help keep employees connected safely.
4 Easy Ways to Keep remote Workers — and In-Office Workers — Connected with Touchless Meetings
Technology can play a pivotal role in keeping remote workers connected about their daily operations in this new normal. One way technology helps through touchless meetings.
Through remote meeting technologies, employees can instantly communicate with coworkers and customers from anywhere in the world — whether working from home or in the office.
Touchless meeting technology add another layer of protection to employees using in-office conferencing technology.
Touchless meetings leverage state-of-the-art technologies that allow employees to control meeting room devices touch-free using:
Proximity
Voice Activation
QR Codes
And traditional A/V digital signage shines in the new normal office space.
Touchless meetings grant easy connectivity between teams, and an experienced audiovisual integrator like Wachter can make this a reality for your business.
RETURN TO WORK SAFELY GUIDE

Wachter wants to help you return to work safely during and after the COVID-19 pandemic. Click the button below to read this guide for how you can get your employees back to work safely.
Join Touchless Meetings via Proximity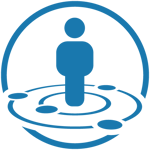 Employee phones become a powerful tool to connect with and control meetings using conference room technologies.
And because they aren't shared between employees, they limit the spread of germs and potential viral spread.
With proximity join, connecting to a meeting within a company conference room is as simple as 1, 2, 3:
Walk into the meeting room
Opening their mobile device
Start or join the meeting
And beyond simply joining and controlling meetings, proximity join technology also allows users to seamlessly book impromptu meetings.
Bluetooth technology detects available meeting rooms nearby and lets the employee quickly select and book a nearby space, even on-the-go via a mobile device.
Connect to Touchless Meetings by Voice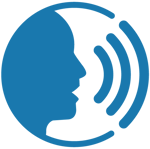 Touchless meetings integrate with AI-powered personal assistants like Amazon Alexa and Google Assistant to provide voice control.
With voice-controlled meeting rooms, employees can control the meeting experience using simple voice commands.
Functionality and specific prompts vary by system and solution, but include such voice commands as:
Start the meeting
Join the meeting
Is this room reserved?
Who reserved this room?
Reserve this room
Remind me when another meeting starts within 5 minutes in this room
Additional functionality offered by some voice-controlled meeting room solutions include:
Ask to join a meeting
Alert meeting attendees if I'm running late
Release the meeting room if we haven't begun our meeting five minutes after its time
Track meeting attendance rates
Review metrics such as meeting usage rates
Scan a QR Code and Join a Touchless Meeting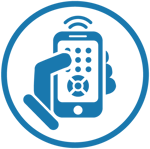 Employees can also join touchless meetings by scanning a QR code.
This will open a web page that grants the same controls as displayed on the meeting room's touch screen or remote control device.
Now employees don't have to use a shared device when controlling their meeting technologies.
Digital Signage Provide Touchless Reminders
As businesses are return employees to work in phases, digital signage solutions in the office can serve up helpful reminders.
Digital signage displays can be placed throughout the office to remind employees of public health guidelines, maintaining at least six feet of distance, provide company-specific updates, and more.
Rather than having an employee tape paper alerts, a network of digital signage displays allows a touchless way for HR, Marketing, and company leadership to keep employees safely informed.
These digital signage solutions can be customizable and scalable to fit the needs of your business.
How to Get Touchless Meetings for Keeping Remote Workers Connected with In-Office Personnel
Keeping remote workers connected with in-office co-workers and customers is top priority for many organizations across the nation. As businesses navigate this new normal and have employees return to work, touchless meetings serve as an asset to keeping employees connected daily.
These touchless meetings make it easy for employees to conduct business with clients and host effective meetings with coworkers. Wachter makes it even easier for businesses by integrating meeting room technologies from reliable partners that fit your needs.
Contact us today to learn how Wachter can help navigate this new normal with touchless virtual meeting solutions.