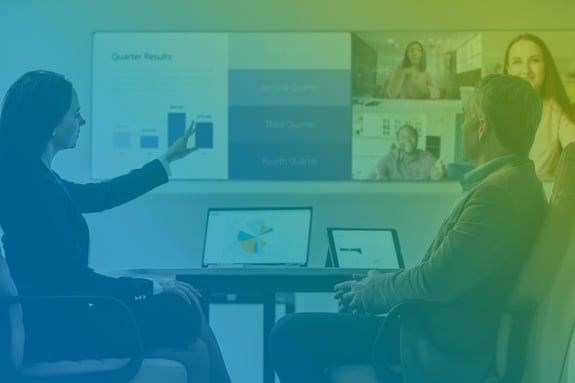 How to Build a Microsoft Teams Room Fit For Your Team's Collaboration Needs
Build Meeting Spaces that Work for Your Teams with Microsoft Teams
After becoming a household name, Microsoft is reinventing the way coworkers and clients connect with its newer creation — Microsoft Teams.
Microsoft Teams keeps the ever-evolving workforce connected and productive. This software is much more than just video conferencing for meetings, as it includes instant messaging, Microsoft 365 file sharing, and several rich features that companies across the nation use daily.
As employers look to bring employees back into the office safely, a Microsoft Teams Room can be the key to helping teams remain connected and productive.
How a Microsoft Teams Rooms Enhance Connectivity & Productivity
Harness the many capabilities that Microsoft Teams provides into a Microsoft Teams Room. Switching from outdated or difficult-to-use conference room equipment and conferencing software is easier than you may think.
Why Your Organizations Should Switch to a Microsoft Teams Room
Collaborate in real-time on shared projects
Meet instantly, securely, and with

audio, video, and chat features
Connect with remote and in-office coworkers seamlessly
Ability to

edit, share, and review files

from your favorite Microsoft Office programs
Receive and make phone calls securely with

VoIP integration
Making the switch to a Microsoft Teams Room is easier than you imagine when trusting an experienced audiovisual integrator like Wachter. Schedule a consultation to build the best meeting space in your office with the power of Microsoft Teams.