Why Organizations Use Microsoft Teams
Video conferencing is an increasingly useful asset for businesses because this technology helps coworkers and customers connect with one another.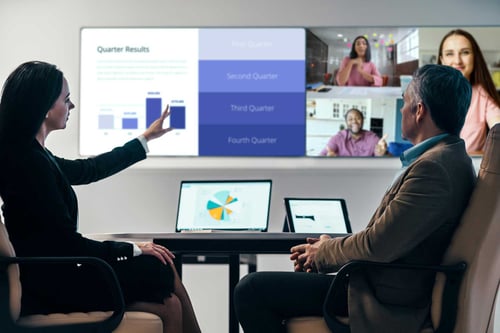 One video conferencing software leading the charge is Microsoft Teams.
"Microsoft Teams is the combination of Microsoft software — between SharePoint, OneDrive, and other Microsoft applications — plus virtual meeting and multi-team collaboration components all in one location," says Jared Botteron, Sr. Project Manager for Wachter's Audiovisual Engineering (WAVE) team.
Initially released by Microsoft in 2017, Microsoft Teams has quickly become a top competitor in meeting room technology. However, this program is much more than just hosting meetings virtually because it also allows for enhanced collaboration and file sharing.
Organizations can harness the Microsoft Teams software with an integrated and compatible Microsoft Teams Room. Starting or joining a meeting is now easier with this conference room technology.
Compared to using a meeting room without a built-in environment, is that "in a Microsoft Teams Room there's less need to plug in many cables for connectivity," Botteron said. "Employees can bring their devices into the room, start or join a meeting, and present content much easier when using a Microsoft Teams Room."
In this blog article, we'll explain the four main features of Microsoft Teams, how companies use this software program, and how to build a Microsoft Teams room.
4 Powerful Core Microsoft Teams Features
Microsoft Teams is working to set itself apart from other video conferencing programs by helping teams stay connected and organized.
These are four main features of Microsoft Teams that organizations across the nation use daily.
Microsoft Teams Instant Messaging
Tired of the email clutter in your Microsoft Outlook inbox? Microsoft Teams has an Instant Messaging (IM) feature for sending quick messages to team members.
With IM, coworkers can:
Get the attention of another team member with @Mentions,
Mark which messages in this chat feature are top priority by setting notifications, and
Share GIFs, emojis, and stickers in their message to employees.
Microsoft Teams Meetings
Hosting meetings just got easier with the Microsoft Teams.
When employees are working out of the office, Microsoft Teams allows coworkers to meet from anywhere. Organizations can host online meetings for 1:1 meetings, between teams, and live events of up to 10,000 attendees.
Before the meeting begins, the meeting host can securely invite internal and external guests, share the meeting agenda with meeting attendees, and attendees can access previous meeting notes and any recordings.
During the meeting, participants can turn on video and audio functions to engage in discussion, share content with Microsoft 365 integration, and record the meeting for future retrospection.
After a successful Microsoft Teams meeting, the host can share meeting notes and recordings, follow up with team members with the IM feature, and schedule the next meeting with the Microsoft Teams app or through Microsoft Outlook.
Microsoft Teams Calls
Staying organized and collaborative is possible with voice and video calling features of Microsoft Teams. Employees can securely make and receive phone calls using the Microsoft 365 Voice add-on, or another integrated VoIP (Voice over Internet Protocol) program.
Customers and coworkers alike can make and receive calls from the Microsoft Teams app, Microsoft Outlook, or even from their smartphone. Managing users, voicemail, and phone numbers is easier through the Microsoft 365 admin console.
Microsoft Teams Collaboration
Collaboration is a feature that sets Microsoft Teams apart from the competition. In this feature, teams are able to upload files, share files, and even edit files when updates are made. Teams can see real-time updates to shared files like Microsoft Word, Excel, PowerPoint, and more.
Teams can collaborate from anywhere, communicate status updates with coworkers, and share files seamlessly using Microsoft Teams.
How to Build a Microsoft Teams Room
Organizations that have already invested in meeting room devices or video conferencing software shouldn't worry. A switch in conference room technology is easier and painless than they might imagine.
"In a Microsoft Teams Room, you build the room around the Microsoft Teams software and most companies today are used to using a software-based codec instead of a hard codec for video communications," Botteron said.
Making this transition from a hard codec to a software codec is "incredibly easy" because many organizations already are paying for the Microsoft 365 licensing that includes Microsoft Teams, Botteron said.
With Microsoft Teams Rooms, teams can connect to meetings by simply walking into a meeting, using their laptop or smartphone. But before an organization starts building a Microsoft Teams Room, a few important decisions should be thought through.
Organizations don't necessarily have to completely eliminate all existing equipment they have been using once they decide to build a Microsoft Teams Room. They also don't have to purchase all Microsoft devices and equipment to access all capabilities of a Microsoft Teams Room. It is important to note that Microsoft routinely tests and approves meeting room equipment that is most compatible for using Microsoft Teams.
An experienced audiovisual integrator can help consult organizations for best uses of a Microsoft Teams Room, budget, and configuring Microsoft-trusted equipment. Botteron says the WAVE team receives many calls from businesses who are unhappy with the meeting room technology or software program previously installed and ask how Wachter can fix it.
"We regularly receive calls from organizations who have invested a lot of money in meeting room equipment and are ready to make a change to a Microsoft Teams Room from a hardware codec," Botteron said. "We also get calls about their meeting room setup is complicated and they want something simple that works every time, and a Microsoft Teams Room is a greater option."
Help your employees stay connected, collaborative, and productive with a Microsoft Teams Room. Learn how your organization can leverage powerful conference room technologies and how Wachter can build a Microsoft Teams Room for your organization.